The start of basketball season is still about two months away, but Guyer will enter the season with a new face in its backcourt as one of the top young guards in the Denton area joins a lineup that already features Oklahoma commit De'Vion Harmon and Michigan commit Jalen Wilson.
Guyer coach Grant Long confirmed that sophomore CJ Luster, who played at Denton last season, moved across town into the Guyer attendance zone and has been cleared to play for the Wildcats this year.
Luster averaged 11.1 points, 2.7 rebounds and 1.6 assists for the Broncos as a freshman, earning newcomer of the year honors in District 5-5A while helping lead Denton to the playoffs. He was also named newcomer of the year on the Denton Record-Chronicle All-Area Basketball Team.
"I've never really seen him play a game," Long said. "But as a young sophomore coming in, he has great leadership qualities. He's a communicator and has fit in really well with the kids. He's committed to being a great basketball player and has a great work ethic — he's an all-around great kid."
Guyer is coming off a 38-2 season during which the Wildcats spent most of the year ranked No. 1 in Class 6A. The team advanced to the Region I final before falling 40-36 to eventual state champion Allen — a team the Wildcats beat twice in District 6-6A play.
Guyer lost forward Grayson Carter to Georgetown and also graduated key perimeter players in Brandon Bird, Chris Craig and Le'Tre Darthard. But the Wildcats return three starters in Harmon (15.7 points, 5.2 assists), Wilson (16.1 points, 6.2 rebounds and 3.2 assists) and JaKobe Coles (12.8 points, 6.3 rebounds).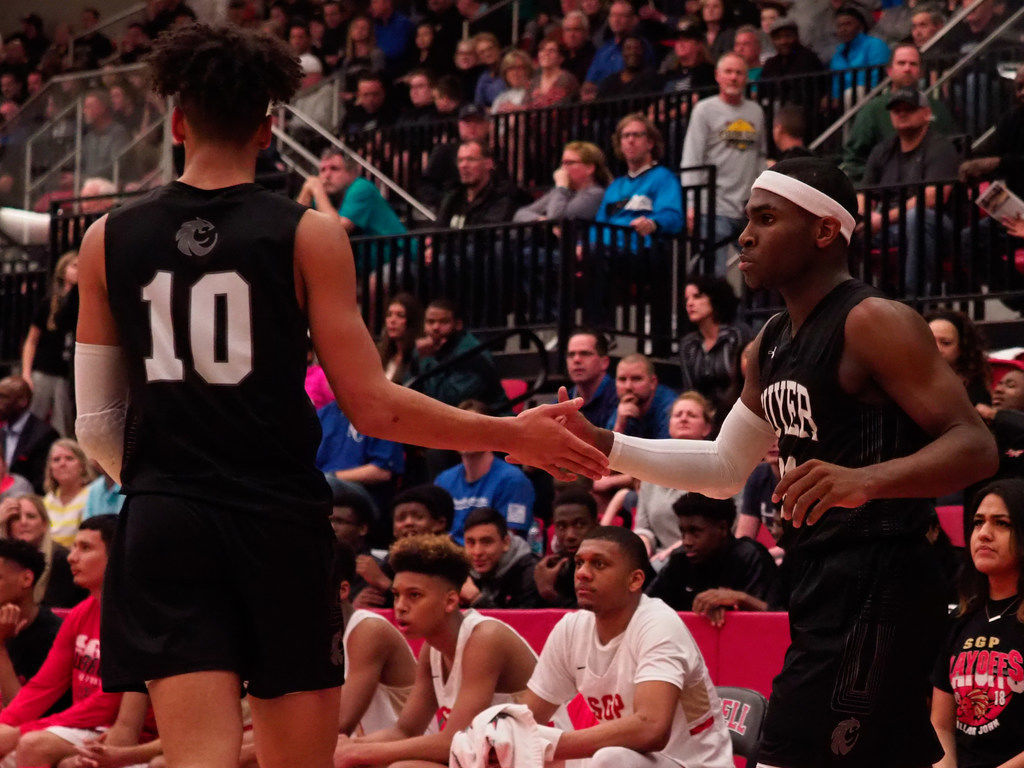 Guyer junior guard Jalen Wilson (10) and Guyer junior guard De'vion Harmon (11) celebrate after they score against the South Grand Prairie defense at Coppell High School, Tuesday, February 27, 2018, in Coppell, Texas, Jeff Woo/DRC-By Jeff Woo
Long said the Guyer offense, despite averaging 78.7 points last year, could be even more explosive this season. Luster will be a key part of that equation.
The Wildcats will open the regular season with the Elite 14 Scrimmage tournament at Wichita Falls Hirschi on Nov. 3.
"We're going to have a pretty good roster already that I think [Luster] will fit right into," Long said. "We have some good seniors who can shoot the ball, defend well and play those roles that Le'Tre, Chris and Brandon had. I'm confident in our team. Defense and effort are going to be a big focus, and if we can bring those two things we're going to be hard to stop."